The HDR technique makes it possible to create an image so faithfully to how the scene is perceived in reality. When the scene being photographed has both very dark and very bright areas, the camera is unable to capture its entire range of luminosity. As a result, the image will contain underexposed or overexposed areas, which cannot be adequately corrected at the editing stage. In order to capture the full range of luminosity of such scenes, the HDR technique is used. It consists in capturing several images of the same scene at different levels of exposure and subsequently combining them into one complete image.
SNS-HDR is a software for processing images using the HDR technique. It allows users to create HDR images from sequences of photos, as well as process single images. Featuring a wide array of tools, the software has been optimized to make the generated images look natural. SNS-HDR is available in 3 versions (Professional, Home and Lite), which have different licenses and offer different sets of features.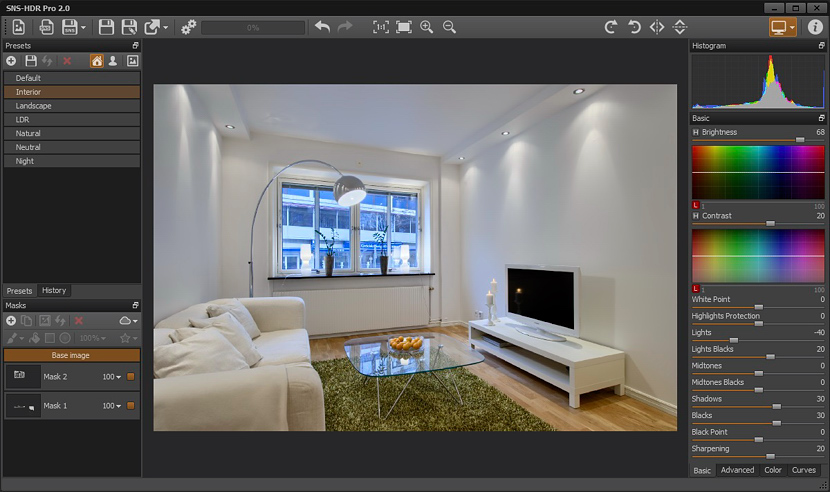 Software features:
Reading images in popular formats.
Reading RAW, Radiance HDR and OpenEXR images.
Merging several photos into HDR.
Processing single images.
Image alignment.
Ghosts reduction.
Unique image editing tools.
Built-in presets.
Masks.
Saving and restoring projects.
Saving images in JPEG and TIFF formats.
The batch processing module.
Minimum system requirements:
Display - 1280x720.
Procesor - Intel Pentium 4 or AMD Athlon 64.
RAM - 2GB.
Disk Space - 50MB.
Operating System - Windows Vista 64-bit or macOS 10.13
Recommended system requirements:
Display - 1920x1080.
Procesor - Intel Core i5 or AMD Phenom II X4.
RAM - 4GB.
Disk Space -50MB.
Operating System - Windows 7 64-bit or macOS 10.13+